Fifty Shades of Grey - Chapter 18
[Dr Green and I] shake hands, and I know she's one of those woman who doesn't tolerate fools gladly.
You're probably right. And she is being paid a shit ton of money to tolerate you, so there's that…
"Yes, Mr. Grey. Look after her; she's a beautiful, bright young woman."
Christian is taken aback—as am I.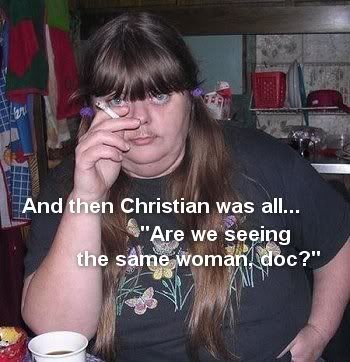 Is she giving him some kind of not so subtle warning?
You mean like you, just now, giving a not-so-subtle hint that she was dropping a not-so-subtle hint? Probably.
I would hope yes. For the sake of everything sane in the world, I hope she is the one person who picking up on the creepy, possessive vibe Christian throws off (since everyone within this universe seems to know every goddamn thing there is to know, including exactly what is going on when they are blind-folded/aren't there or can't actually read minds yet still knows) and is like… "Maybe this whole possession/manipulation of an innocent girl is be something you probably shouldn't do."
I'm not saying, but I'm just saying.
"She said that I have to abstain from all sexual activity for the next four weeks."
Christian's mouth drops open in shock, and I cannot keep a straight face any longer and grin at him like an idiot.
"Gotcha!"
He narrows his eyes, and I immediately stop laughing. In fact, he looks rather forbidding. Oh shit. My subconscious quails me in the corner as all the blood drains from my face, and I imagine him putting me across his knee again.
"Gotcha!" he says and smirks.
Um… this is some fucked up joking. I think it is moments like these that really tell you something about a relationship. She was genuinely afraid of him in that moment, and it wasn't just a one time thing. She is terrified to challenge him. No one should feel threatened in a relationship. Even when Christian and Ana get into this whole "more" shit later on in the series, she is still fucking terrified of him and his wrath.
That isn't love.
I ask again, HOW DO YOU BITCHES FIND THIS SHIT ROMANTIC? Even their joking around is the most depressing shit I've ever read.
I'm renaming this book again: Fifty Shades of Battered Woman Syndrome.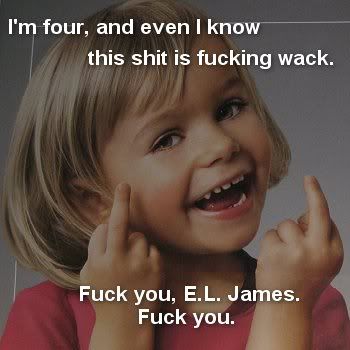 Fuck all of you.
"As much as I'd like to take you here, now, you need to eat and so do I. I don't want you passing out on me later," he murmurs against my lips.
"Is that all you want me for—my body?" I whisper.
"That and your smart mouth," he breathes.
I watch as he moves gracefully through his kitchen.
I thought that blurring this one out would protect the innocent… but then I thought, if you are the innocent, why the fuck are you reading this blog??
Incidentally, blurring it out just made it that much more creepy.
"Tell me—what method did you opt for?"
I am momentarily thrown by his question, when I realize he's talking about Dr. Greene's visit. "Mini pill."
He frowns.
"And will you remember to take it regularly, at the right time, every day?"
Jeez… of course I will. How does he know? I blush at the thought…
YEAH, RIGHT ON INVESTIGATORY WORK THERE, ANASTASIA!!1! HOW DOES A TWENTY-SEVEN YEAR OLD MAN WHO HAS BEEN SEXUALLY ACTIVE WITH WOMEN FOR OVER TEN YEARS KNOW ABOUT BIRTH CONTROL???11?!?!?!?
Making your character this ignorant is NOT CUTE!
I just DO NOT UNDERSTAND.
"Eager as ever, Miss Steele?" he smiles down at my empty plate.
I look at him from beneath my lashes.
"Yes," I whisper.
His breath hitches. And as he stares down at me, I feel the atmosphere between us slowly shift, evolve… charge.
I wonder if these two apes are going to fuck?
Someone shoot me. One week of not reading this shit has not been enough. I hate this shit so much it hurts.
"Are you going to hit me?"
"Yes, but it won't be to hurt you. I don't want to punish you right now. If you caught me yesterday evening, well, that would have been a different story."
Oh, that's a relief!!!!!!!! He doesn't want to punish her today!!!! So sexy! I love it when my sexual partner wants to hit me even though I constantly talk about how much I hate it!!!!!!!! FIFTY SHADES OF GREY IS SUCH A HOT FUCKING BOOK. MY VAGINA IS SO MOIST THINKING OF ALL OF THE ASSAULT AND BATTERY THAT IS ABOUT TO GO DOWN!!!!!!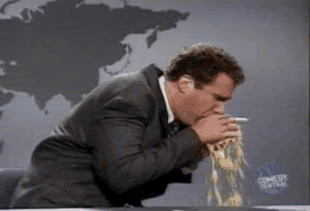 Just kidding. My vagina has never been dryer. It is literally crawling up into my body.
Holy cow. He wants to hurt me… how do I deal with this? I can't hide the horror on my face.
"Don't let anyone try and convince you otherwise, Anastasia. One of the reasons people like me to do this is because we either like to give or receive pain. It's very simple. You don't, so I spent a great deal of time yesterday thinking about that."
True luv, guizz!!!!!
Another clue that this shit is fucked up BEYOND BELIEF: Anastasia calls his pervert "playroom" the Red Room of Pain. Those do not sound like the words of a consenting adult. But what the fuck do I know?
Christian's stance has changed completely, subtly altered, harder and meaner. He gazes down at me and his eyes are heated, lustful…hypnotic.
"When you're in here, you are completely mine," he breathes, each word slow and measured. "To do with as I see fit. Do you understand?"
I would rather die, thanks. I am completely convinced that the real world version of Christian Grey could bring zero womens to orgasm.
"…Now I'm going to peel you out of this dress. Something I've wanted to do for a few days if I recall. I want you to be comfortable with your body, Anastasia. You have a beautiful body, and I like to look at it. It is a joy to behold. In fact, I could gaze at you all day, and I want you unembarrassed and unashamed of your nakedness. Do you understand?"
First of all, if you like this book, I just want to again remind you that you are a fucking idiot. And fuck you. When I publish a book, you are required to buy it and love it because you owe humanity. And me. This book is fucking awful. The language is not natural. I know, I know. Some of you fucking tards would be like, "But James said that Christian doesn't speak like anyone his age!!!!1!!!one!!!11!!1"
Well, yes. You're right. But you're also fucking wrong as shit. And I hope you get spit on by a camel. No one talks like this. Ever. These people have the most unauthentic feeling conversations ever.
Just kidding. Right before I get fucked by a small-dicked, over-compensating, bossy sadist, they always give me this speech. It is so sexy.
"You're biting your lip," he breathes. "You know what that does to me," he adds darkly. "Turn around."
Pulling my hair behind me, to my surprise, he starts braiding it in one large braid, his fingers fast and deft. He ties it with an unseen hair tie when he's finished and gives it a quick tug so I'm forced back against him.
"I like your hair braided in here," he whispers. 
Someone has been watching too much Queer Eye for the Sadomasochist Guy!
Oh, and that unseen hairpony? He made it himself, from his ass hairs.
Also, why the fuck does he whisper so goddamn much? He is supposed to be a bossy, controlling, assface. Whispering shouldn't be a concept he grasps.
"Will you remember this position, Anastasia?"
So now le fucking is going down. He just smacked her with that damned riding-crop from her dreams and she is all, "Omgz! It totes didn't hurt!" But then he asks how it felt and she provides us with…
"Okay," I frown.
DFKJSFASDL;KFJASDLFKJ. I FROWN?
CLEARLY YOU DON'T LIKE IT. BUT PLEASE, LET IT GO ON LIKE A LITTLE BITCH.
This is sexy…
"We're going to start here, but I want to fuck you standing up. So we'll end up by the wall over there."
SO sexy! Chainz me up naw-uh!!!!!!
I'm entrusting myself to a beautiful man who, by his own admission, is fifty shades of fucked-up.
And that is how Anastasia Rose Steele died.
Fucking idiot.
"You look mighty fine trussed up like this, Miss Steele. And your smart mouth, quiet for now. I like that."
First, "mighty fine?" Who the fuck still uses the phrase, "mighty fine?" No one. The answer is not one fucking person.
Unless you live in the Deep South and fuck members of your own family.
Oh wait…
Second, I love it when my "lover" tells me that he can't stand the fact that I fucking talk. This book is so delicious!!!!
More asshole moments: "Mighty fine" is used in this series 12 times. Shoot me.
Oh shit, ya'll!! Anastasia just came gloriously! That sounds so hot. Every man I meet will now be forever punished if I don't come gloriously every time we fuck. You've been warned!!!!1!
Jeez no… not again… I don't think my body will with-stand another earth-shattering moment. But I have no choice… and with an inevitability that's becoming familiar, I let go and come again, and it's sweet and agonizing and intense.
Here's to hoping this orgasm is this bitch's demise. That or sore genitals… because THAT IS THE REALITY OF HAVING THIS MUCH SEX.
Oh, and don't forget the UTIs!!!!!!
Blah blah blah, now some more brain-washing of this stupid ignorant fuck.
Now she's being tied up again.
Now she's being threatened to be beaten… for moving. Sorry for being a fucking HUMAN BEING, MASTER.
Now Christian is being Buffalo Bill again. "You're skin is really beautiful." FOR THE FUCKING RAINCOAT I'M MAKING.
"So wet. You never disappoint, Miss Steele," he whispers, and I hear the wonder in his voice.
Why does he have wonder in his voice? You're still wet from your last sexual encounter… 36 seconds ago!
…and I can feel a gathering deep inside me. Oh no… and for the first time, I fear my orgasm… if I come…
This shit is so fucking stupid. Fuck you. Fuck your mother. Fuck E.L. James.
"That is such a lovely sound," he says wistfully. He sits suddenly, taking me with him so that I'm once more sitting in his lap.
"That's my fault," he says and shifts me so that he can rub my shoulders and arms.
Gently he massages some life back into my limbs.
What?
I glance up at him behind me, trying to understand what he means.
"That you don't giggle more often."
I wonder why that is? Perhaps the fact that you have crushed her personality, thus crushing her spirit? Nahhhh, that can't be it!
He patiently dresses me as if I'm a small child.
TAKE ANOTHER SHOT BITCHES! SHE REFERS TO HERSELF AS A CHILD AGAIN!!!
Fuck everything. I hate reading this book. I hate it so much.
I'm going on vacation, assholes. See you in another week.